Landscape painting and seascape painting of Cornwall and the Isles of Scilly is how I express my creativity, My love of nature. I have always admired artists like JMW Turner, Emile Nolde, Joan Eardley and William McTaggert. Artists that not only portray the physicality of nature as well as giving their artworks a lyrical, sensual quality but also imbue the paintings with a particular philosophy, in a profound sense artists are the conscience of society. Something I always strive to achieve in my own paintings. It is important to me to imbue the paintings with a sense of awe and respect for nature. That we are a part of nature. My painting is about taking time to sit and reflect on nature to celebrate nature. This one planet that is our home, To fundamentally realise that we have a responsibility to look after this planet…….because we have no where else to go. So a seascape or landscape is not only a representation of a local Cornish sunset or seascape or landscape it is in every sense following on from the kind of social commentary that filled Turner's paintings.
The process of painting is complex, it is not simply about recreating a beautiful view, sunset or sunrise. Always behind this and embedded throughout the painting process is the culmination of all my life experiences, my thoughts, my philosophical outlook, although sometimes I will work without thought gradually loosing self awareness, entering an almost trance like meditative state, my experiences, my dreams, memories and aspirations. All these things feed into my art.
When working outside this is almost always with sketchbooks taken with me in pannier bags on my bike as I cycle around the Cornish coastline.
Painting outside on Tresco
Each year I have the opportunity to take part in Gallery Tresco's Isles of Scilly artist in residence program. Usually this lasts only for one week.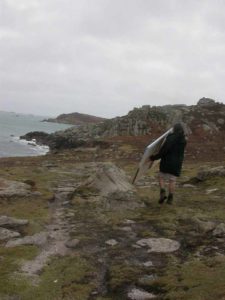 As I live in St Just it is a relatively easy thing to organise the transport of larger canvases to Tresco via the ferry, and as Tresco is relatively small, you can walk around the whole Island in an hour or two, and so it is not impossible to carry all the tools, paints and canvases I use to where ever I wish to paint.
View gallery of new work by clicking here
Stone Balancing
I also create sculptures in the landscape using only the rocks I find either on beaches or along streams.
Find out more by clicking here
Contact me by clicking here